In the natural habitat of a stationery shop, you'll notice that paperphiles crave skin-to-paper contact when examining inspired calendars.
By Rose

The beginning of the year is an exciting time for paperphiles like me. During the final quarter of 2014, I kept eyeing the gorgeous calendars and planners waiting, ever so patiently, on my shelf. I was less patient. My sister Alisa, who has an uncanny ability to know what I like better than I do, had gifted me with Holstee's limited-edition 2015 Monthly Mindful Living Calendar, and it seemed like forever until I could start to use it.
:: Skip to the Spotify list of songs with "Paper" in the title.
Motivation through touch
I literally gasped when I opened up the envelop and held the 5-by-7 cards, which have a reassuring retro sound when you run your fingers along them. Letterpress printing and inspired calendars go hand-in-hand: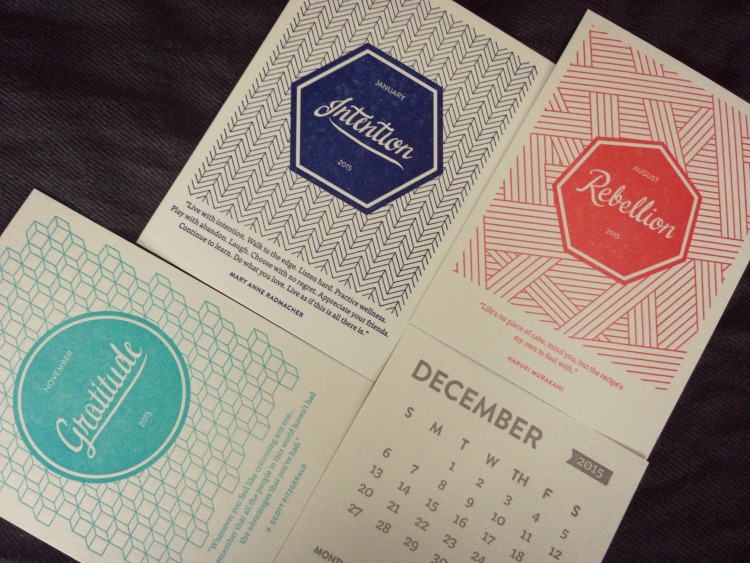 Scott, Moonsail North co-founder and principal, is no paperphile. He lives as paper-free as he can, and I admire that. But even he would find something to like in these Holstee cards, such as the quote that comes in August by one of his favorite authors.
Life's no piece of cake, mind you, but the recipe's my own to fool with. —Haruki Murakami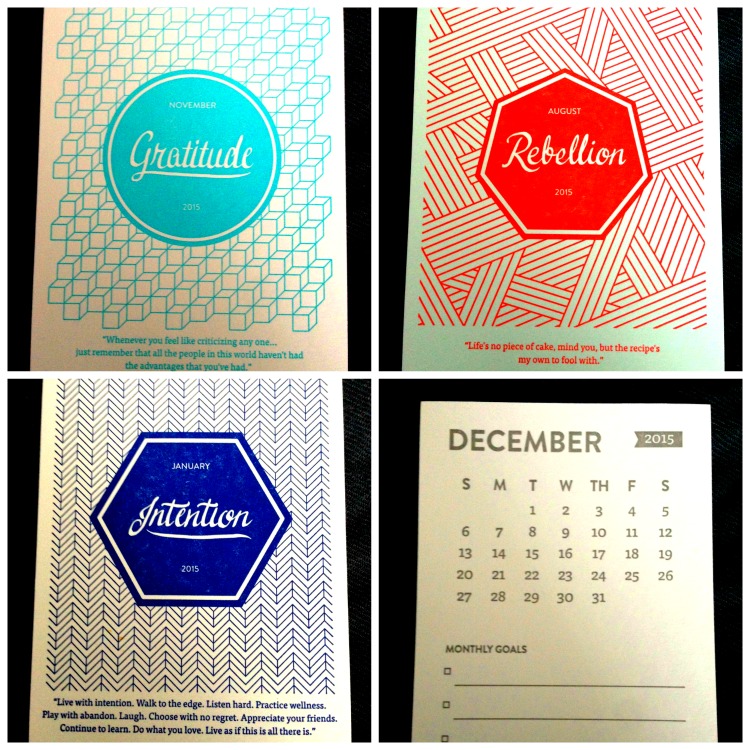 By the way, if Holstee sounds familiar, it might be because you have seen the deservedly popular Holstee Manifesto: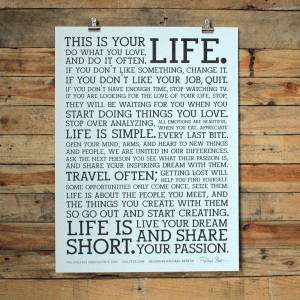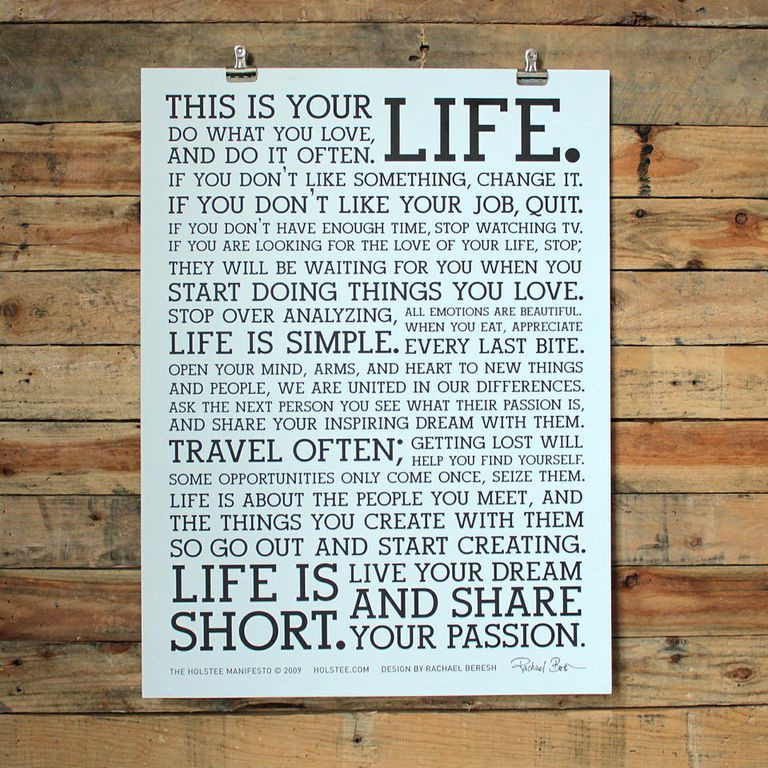 You can download the Holstee Manifesto (and other inspiring pieces) for personal use for free.
Creativity, day by day
The Moonsail North team most definitely lives in the digital world. But when it comes to planners, I am still all about the paper — I let my Outlook and Google calendars serve as my back-ups. There are two reasons for this:
There are spacial aspects to how/where I write down tasks and appointments in my planners that allow me to indicate priority levels.
It's simply more inspiring! I inevitably have a different focus each year, and I find calendars and planners that best support the way I work and most inspire me.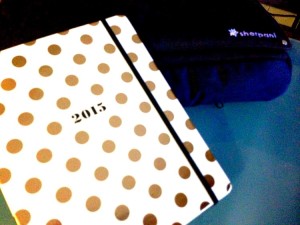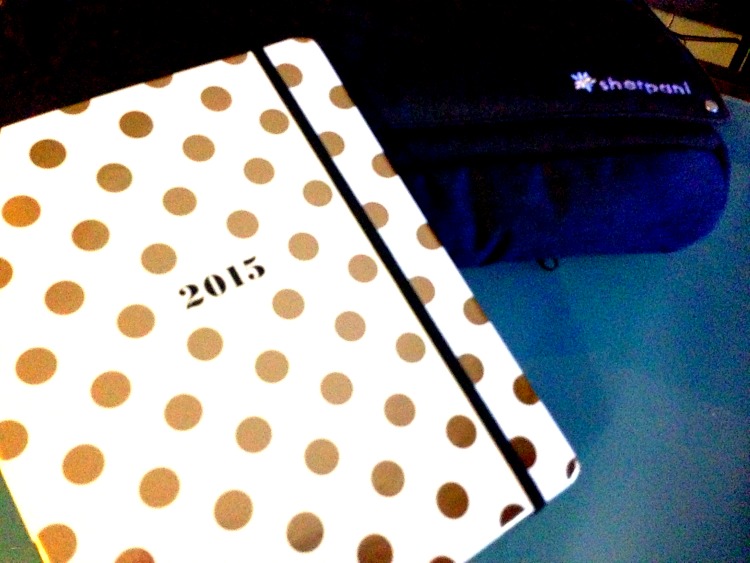 For a long time, I had a black, corporate-looking At-A-Glance planner called Outlink. But I decided last year that life was too short to have boring planners — and what perfect timing, because 2015 marks a lot of new beginnings for me, including the start of running my own strategic communications business. It's time to truly pull out all the stops and let the creativity juices flow. I'm geeked to have my Kate Spade planner in the mobile office unit contained in my Sherpani messenger bag.
Whether you put zero time into thinking about how to keep all your dates straight or, like me, invest an inordinate amount of energy into the process, I hope the activities that do fill your day are life-affirming and inspiring.
We at Moonsail North really dig the Brainpickings project — a treasure trove of inspiration for writing, art, reflection and developing your personal narrative. Maria Popova, the brilliant woman behind Brainpickings, has a side project called Literary Jukebox, for literary pairings. In a similar spirit of honoring good partnerships between words and music, we'll sometimes pair our blog posts with Spotify playlists for you.
For this blog post, we've selected a few songs with "Paper" in the title. Beatles fans will immediately wonder about the omission of "Paperback Writer" — but as you may know if you're a heavy Spotify user, the service does not have access to a single Beatles track.
Enjoy! I suggest listening as you sip on a cup of chai while reading a book with beautiful poetry or prose on the inside and a velvety soft-touch matt laminate cover on the outside.
January 14, 2015 
 (Credit for the Holstee Manifesto photo: Via Holstee.com)