A post on what our Pure Michigan creativity microadventures have to do with client services. As a bonus, at the end, I share our latest recommendations from Traverse City (including where to go for new, outstanding chai).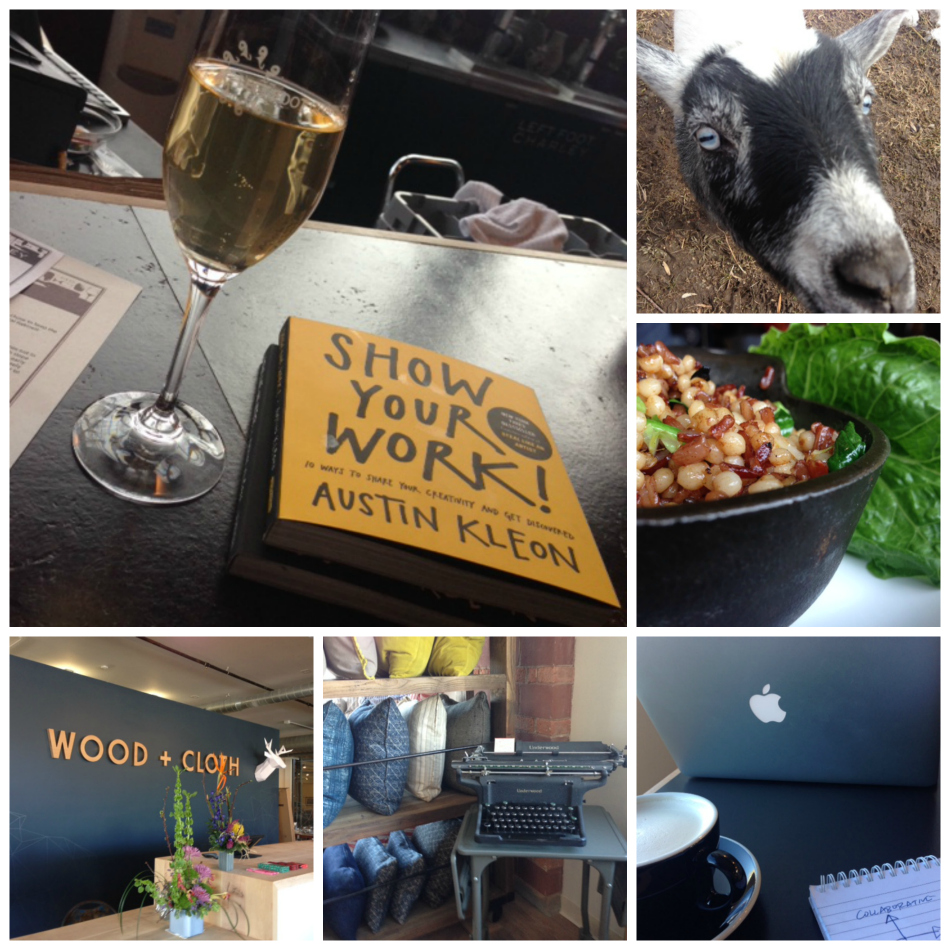 I can't remember how many times I've made the three-plus-hour trek from Lansing, Michigan up to Traverse City, a gorgeous town that chills on the 45th parallel and offers stunning views of Lake Michigan and the Grand Traverse Bay. Scott, my Moonsail North co-founder and all-around partner-in-crime, can't remember either.
We have a handle on a few things, though:
When we go up these days, we have an ever-growing list of people to catch up with–and by that we mean, we're so grateful that we have a community of incredibly cool, talented and fascinating friends there.
We have visited often enough, and we rave about it enough, that we were cast (as ourselves) in an "Eat, Live, Play" Pure Michigan TV commercial that ran on the Food Network last summer. Given that we're both introverts who barely like to get our photos taken, this fact continues to astound us.
We are inspired every single time we visit. Every. Single. Time.
On a personal level these past many years, the friends, the fertile soil, and the farm-to-table inspirations have been instrumental in keeping the flame of creativity running strong. This past weekend, we found that it also does the same for our startup consulting business, now in its fourth month. Soaking in the area's deep well of #PureMichigan and #TCMI nourishment served as a power boost on the mindfulness front. We were able to take a step back from the day-to-day demands of running a business and tending to the fire of client projects to once again reflect on intentions, motivations and strategies around service and growth.
In between conference calls, social media pushes for clients and all the rest–not to mention a Sunday morning ashtanga yoga workshop at the absolutely lovely Ashtanga North–we stayed with this theme of Pure Michigan creativity microadventures. A key part of this involved reflecting on our mission, vision and values. It's an important process for any organization, but we felt it was critical for us. Where we were just four months ago when we officially threw open the doors to working directly with clients rather than working with clients while working for someone else seems like a world away from where we are now–in the best possible way. The journey has led us to left-brain and right-brain territory that we've been thrilled to traverse, and it has helped us to forge relationships that mean the world to us.
What is it about spending time outside, along the water? What is it about staying at an Airbnb whose owners have built a goat house for pets rescued from a life of cruelty? What is it about eating food farmed within 30 miles of where you're sitting?
---
 The New York Times recently ran this piece about microadventures:
Alastair Humphreys adventure-hopped for a decade, starting with a four-year round-the-world bicycle trip after college. From there, the British author, blogger and motivational speaker traversed southern India, rowed across the Atlantic Ocean and trekked 1,000 miles across the Arabian Peninsula's Empty Quarter.

But it was a series of mini-expeditions in his homeland that earned him the title of a National Geographic Adventurer of the Year in 2012. Since then, Mr. Humphreys, author of the recently published "Microadventures: Local Discoveries for Great Escapes," has been preaching the gospel of short, perspective-shifting bursts of travel closer to home, inspiring followers to pitch a tent in nearby woods, explore their city by moonlight, or hold a family slumber party in the backyard.

Mr. Humphreys, 38, talked about how people can benefit from outdoor escapes. Following are edited excerpts.

Q. What led you to downsize from global adventures to regional ones?

A. Originally I set myself on a course of being a quintessential heroic British explorer and did that sort of thing for quite a few years. But a couple things happened. During the motivational talks I give, the audience would call themselves "normal people," while I was "the adventurer." But I'm a normal person, too, and I wanted them to see they could go on their own adventures. Also, I have a wife and two young children, and I couldn't go off for months at a time. To stop myself from going stir-crazy, I came up with adventures closer to home.

Your first microadventure in 2011 was relatively difficult, but you've scaled back. Why?

Yeah, the first was when I decided to walk a lap of the M25 motorway, the 120-mile road around London. I live quite near it and while it seems rather boring, I started to get curious about where it went. It was also a metaphor for finding pockets of beauty wherever you are, one of the things I love about adventure. I absolutely loved that walk. My original idea was to try to do the most epic things I possibly could without going far, but I found that "epic" limited people from participating in the idea. The key is getting beyond the excuses. If you can't climb a mountain, climb a hill.

What's behind the desire to inspire others?

I'm not a brave, adrenaline type, but expeditions have done so much for my life. Just waking up on a hilltop makes me feel so much happier, and that carries through in other areas. I'd like to help others experience that. I hear from quite a few people who pour out their hearts to me, dads and lads bonding, overworked city types sleeping on a hill. Sleeping on a hill won't change your life, but it can be a tiny step toward making the changes.
---
While in Traverse City, we met up with an artist friend who runs the TresArtsy Etsy shop. We were on a mission: to pick up a couple small pieces for the business incubator space we'll be moving into soon. We were really taken by what April Stuck had in her studio, and later that day, I realized how taken I was by the written description she has of her style and process. I think it says so much about the trajectory of learning, letting go, and unleashing:
Reincarnation.

As a recovering painter of all things realistic (think: every–vein-in-the-leaf), my style has evolved to the challenge of abstract. It's all about loosening up, going with the flow, a sort of "giving in." Color and texture are magnificent things!

I employ a variety of tools – but nary a brush. Vintage painting knives, some rusty, most bent, are the main implements I use in the creation of an abstract. Releasing the grip of the brush is immensely freeing – "free" being the most basic component of an abstraction.
After years of painting in oil, I'm currently enjoying the immediacy, the necessary spontaneity that acrylics require. You must think fast, work fast. You know, work harder, work smarter. It's an organic, instinctual process.

You'll find the edges…
Strategic communications, when done from a place of passion and conviction, can be an art and a craft. It's one that Scott and the rest of the Moonsail North constellation understands we must stay on the edge of, if we're going to be able to offer our most creative–and therefore, our most effective–approaches to helping our clients.
We look forward to many more years to come of microadventures to see old friends and to walk through the fecundity of the region's creative aesthetics.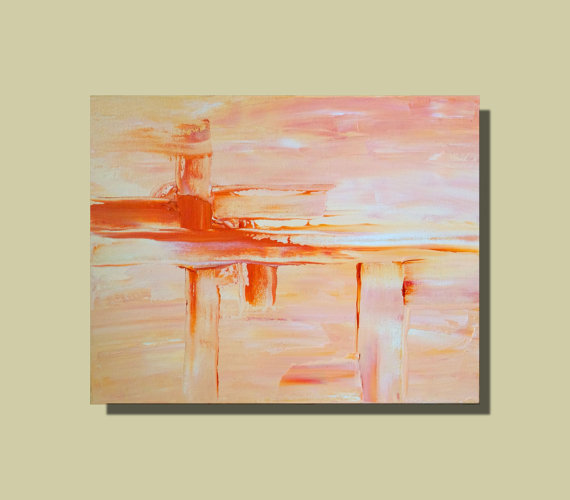 P.S. There are too many favorite spots for us to recount them here. For our Traverse City-loving friends out there, we can say that our newest finds–because there are always new finds–include the brewed-with-dedication chai at Blk Mrkt and the quirky-yet-useful objects at Darling Botanical Co. in the Warehouse District. We love that Georgina's (Latin and Asian fusion) has finally moved out of its cramped space and into a stylish, expanded spot located, for those of you who keep score on Front Street, in the old Phil's chocolate shop.
The Franklin, which was opened last year by the same amazing team responsible for Stella Trattoria, had a burger that made Scott's day and a vegan lettuce wrap appetizer with Himalayan red rice that rocked my post-spring-cleanse taste buds in the best possible way (and, as a Nola native, I want to note that their housemade hot sauce is extraordinary).
We were bummed that 9 Bean Rows in Suttons Bay was closed the day we were there, but we got the chance to instead enjoy the 45th Parallel Cafe as we went back and forth about mission and vision statements.
Scott led the way to Tandem Ciders but didn't have time to hit up some of his favorite brewpubs–which also happen to be sustainability-minded–like Rare Bird and Brewery Terra Firma, but he did make it for the first time to the The Filling Station and was impressed by their pizza.
I am determined one of these days to check out Light of Day Organics, a certified biodynamic tea farm (it has to be warmer than springtime-frost-cover-on-your-windshield, however), and we got the low-down from friends that there is actually a little grocery store in the small town of Lake Leelanau that has fabulous, home-cooked India food. I'm on it–next time.
March 25, 2015