There are days that I wish I were a scientist—an astrophysicist cool as Neil deGrasse Tyson maybe, or a climate scientist studying the impacts of global warming.
Then I remember that my only high school C came in chemistry, and I grudgingly accept the fact that I probably entered the right field after all.
One of the best things about being a storyteller is the breadth of people and professions we get to collaborate with—we learn new things every day, and then develop strategic ways to communicate the innovative efforts of our clients. Luckily, we've had several opportunities to tell the stories of groundbreaking work being done in the sciences – and that's especially true for our friends at the Michigan State University College of Natural Science.
Two of NatSci's most innovative leaders were recognized tonight at the sixth annual MSU Innovation Celebration. Bruno Basso, professor of geological sciences, received Innovation of the Year for his work in sustainable food production, while Gemma Reguera, associate professor of microbiology and molecular genetics, was named Innovator of the Year for breakthroughs in harnessing energy from wastes.
It was a great event, and we were thrilled to pop in, see the scientists receive their awards, and hang out with some of the leading minds in Michigan.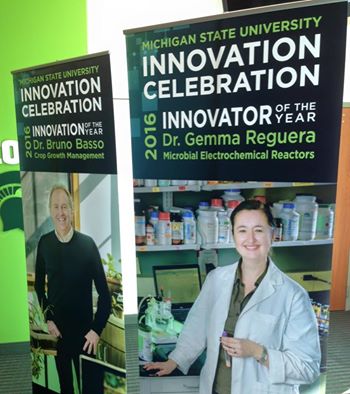 Innovating to make the world a better place – it's what drives so many of our clients, and it inspires us to do our best work. We're grateful for the opportunity to tell their stories.