By Emily Mata
Over the last month, the members of #TeamMoonsail have spent a lot of time together. In late July, Sedora flew from California to Michigan for a whirlwind month of Moonsail North activities (including being introduced to #TeamMoonsail's newest member). Between the ribbon cutting at Moonsail North HQ, the #TeamMoonsail retreat, our team trip to a Lansing Lugnuts game and various other team outings and lunches, we've gotten to know a lot about each other — and we want to share it with you.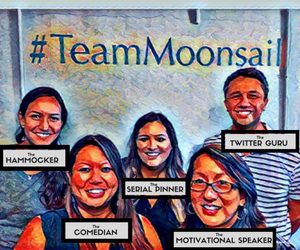 Most likely to moonlight as a comedian: Sedora
Sedora is, without question, the funniest member of #TeamMoonsail. If she didn't spend her days helping organizations with messaging, capacity-building and grant writing, she would surely be able to successfully market herself as a comedian (watch out, Amy Schumer). While the connection between quick-witted humor and successful communication may not immediately seem clear, the two are actually very similar: As a jokester and a strategist, Sedora is always quick on her feet. She knows how to tailor her message (or joke) to a specific audience and how and when to tweak the language and delivery when necessary. Humor is a key to success in the workplace and Sedora's light-hearted nature and hilarious quips have helped to shape the culture at Moonsail North — for the better.
Most likely to install a hammock in the office: Katie
Katie approaches things with a fresh perspective and positive energy, and space is not exempt. Much like our client USGBC, we understand and appreciate that the design and flow of our workspace is incredibly important. As we recently shared on our social media channels, Moonsail North HQ went through a transformation to better foster collaboration and creativity within our workspace. If it were up to Katie, that space would include a hammock — for various reasons. The first, and most obvious, reason: hammocks are incredibly comfortable. Secondly, getting away from a desk, even for a little while — to hammock or perhaps to take a walking meeting  — can inspire creativity and increase productivity. Thirdly, there are myriad health benefits that are associated with hammocking. Katie advocates for hammocks in the workplace not only for the sake of creativity and productivity, but to save the health of #TeamMoonsail's spines.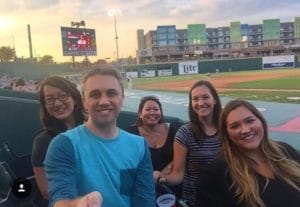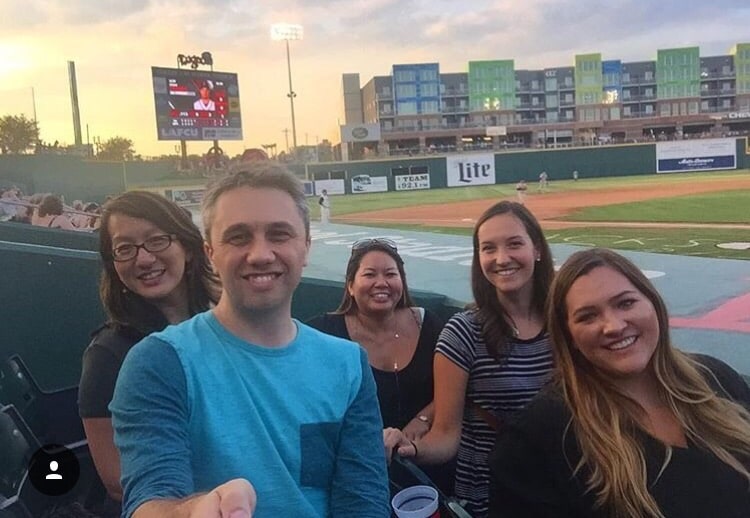 Most likely to be invited to give a TED Talk: Rose
TED Talks are reserved for the most innovative, influential and inspirational people — and Rose fits the bill. Rose's impressive resume — including co-founding Moonsail North — might lead you to believe that she's all work and no play, but you would be wrong. An avid yogi, salsa dancer and chai addict, Rose personifies the values of her startup — creativity, passion, collaboration, and community-focus — not just in business, but in life.  In fact, her contributions to the Lansing community — both through her business and of her own accord — have not gone unnoticed. Rose's passion for relationship-building, community, and life itself make her stand out (and would make for a very compelling TED Talk).
Most likely to be internet-famous: Scott
Don't let his quiet disposition fool you — Scott Swanson is hilarious. Despite the fact that, as an introvert, Scott is a man of few words in person, his online presence is hilarious, relatable and, dare I say, hip. Scott's personal Twitter account is a haven of hilarity, thoughtful observations and amusing commentary. #TeamMoonsail is patiently waiting for the day in which one of Scott's whimsical, well-thought-out tweets goes viral and puts him on the map. Ironically, it's Scott's glorious Twitter page (and not his likelihood of internet stardom) that makes him stand out as a communicator. The evolution of social media has transformed the ways that stories are told — but not the importance of storytelling itself.  While a witty Twitter narrative may seem irrelevant, Scott's ability to coherently (and amusingly) tell a story within the 140 character limit is an important skill for a communicator to have in 2016.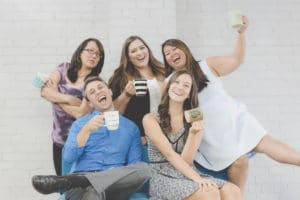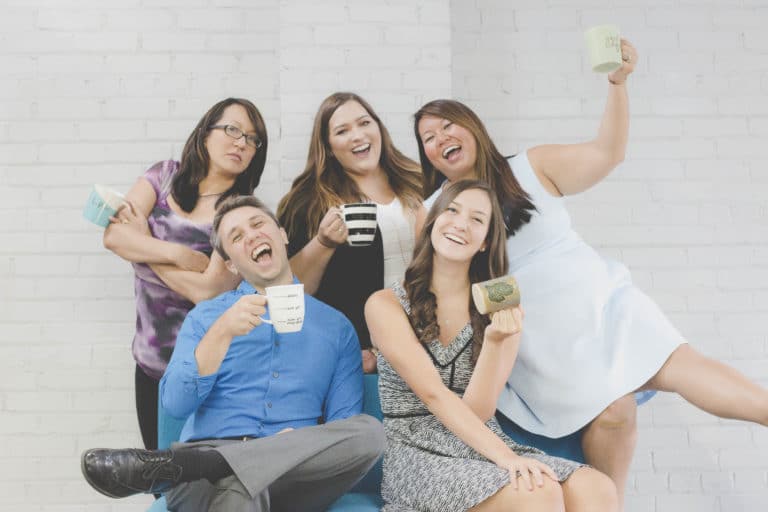 Most likely to throw a Pinterest-inspired party: Emily
As #TeamMoonsail's resident crafter, Emily is always trying something new. From makeup artistry, decorating cookies and cakes, dabbling in acrylic painting and, most recently, to becoming a photobooth prop maker extraordinaire, she's always up for a creative challenge. Socializing can be an exhausting thing (ugh, #introvertproblems) but if it involves crafting, baking or painting (and giving those Pinterest examples a test run) she'll give it a good college try. Creativity is inherent in every medium that Emily tests out, which makes her an extremely well-rounded and effective visual and written communicator.