Like so many around the world, I was overwhelmed when the U.S. Supreme Court made same-sex marriage legal in all 50 states in its landmark June 26 decision. I live in Michigan now, where gay marriage was only legal for less than a day last year. In 2004, when I was still a journalist and living in New England, I covered Massachusetts becoming the first state to legalize gay marriage, and, among other issues, enjoyed talking to couples about how they would decide the name game — would they hyphenate or not hyphenate?
Data-and-trends guru Nate Silver argues in a FiveThirtyEight piece that "Change doesn't usually come this fast." On the big-picture level, I get it — especially thinking about how it was only in the '60s, the decade before I was born, that the Supreme Court ruled that states could not bar interracial marriage — a ruling that meant I would be able to grow up to legally marry the man who won my heart. But seeing how quickly change happened in Massachusetts more than a decade ago, the same-sex union issue on the national front has felt molasses-slow to me.
Brands making a statement
What has been lightning fast has been the global response over social media since Friday. I am writing this post some 56 hours after the decision was handed down. The rainbow-colored social media conversations threaded together with the #LoveWins hashtag now includes images and sentiments related to the #SCOTUSmarriage decision from Friday, but also images and sentiments related to #Pride events around the country. I'm seeing everything streamed across my accounts on Instagram, Twitter, Facebook, and as part of Snapchat stories.
While a few hashtags started out the day on June 26, #LoveWins was the clear winner. It shouldn't come as a big surprise — like good writing, it is concise and evocative. This is how three of the more frequently used hashtags from Friday morning have fared through the weekend, according to Topsy, one of my favorite freemium insight tools:
As a communications professional, I couldn't help but follow these developments from both a personal and a branding perspective. Brands quickly reskinned their logos in the colors of the rainbow and rolled out their creative, which undoubtedly — at least for the bigger brands — had been long in the making with their advertising and social media teams based in-house and at their agencies.
The Moonsail North Twitter account @moonsailnorth) has been sharing how brands have showed their enthusiasm for the Supreme Court case reviewing Obergefell v. Hodges — which came down to the 14th Amendment — and the notion that #LoveWins:
We're looking at how brands are marking this historic day. https://t.co/PP661sLGdl

— Moonsail North (@MoonsailNorth) June 26, 2015
We're on board. Diversity strengthens us all & today we celebrate #MarriageEquality & the landmark #SCOTUS decision. pic.twitter.com/gqej2xMzIU

— americanair (@AmericanAir) June 26, 2015
My personal favorite might have been this one, from the Maytag Man:
.@TheMaytagMan on #SCOTUSMarriage #MarriageEquaility #lovewins https://t.co/CnJPq6AlAE

— Moonsail North (@MoonsailNorth) June 26, 2015
Here's to finding the one who completes you. #SCOTUSMarriage pic.twitter.com/Ox1WB3WCL1

— The Maytag Man (@TheMaytagMan) June 26, 2015
I appreciated how Visa handled the SCOTUS decision — brilliant both in its simplicity, but also in its alignment with its "Accepted Everywhere" advertising. Keeping score seemed necessary after a while:
We continue to track how brands promote their responses to #MarriageEquaility. MasterCard and @visa weigh in… https://t.co/viM06uCLU8

— Moonsail North (@MoonsailNorth) June 26, 2015
Keeping score? We caught @visa & @mastercard promoted #marriageequality tweets but not @discover or @AmericanExpress pic.twitter.com/C925wjySgD

— Moonsail North (@MoonsailNorth) June 26, 2015
And the social media team at Discover card noticed, writing back to us:
@MoonsailNorth @Visa @MasterCard @AmericanExpress Check out our new Pride Card design that we announced today! #LoveWins *Sabina

— Discover (@Discover) June 26, 2015
I haven't seen anything else about this so-called Pride Card, so I will have to investigate a little further.
Visa and Mastercard seemed like the obvious statement-making leaders in the credit card category.
According to AdWeek, Mastercard on June 25:
posted a video telling the story of a couple who won tickets to see Gwen Stefani, the brand's spokeswoman, in celebration of Pride Month. [On June 26], the tweet is getting a boost with Promoted Tweets around the #LoveWins and #MarriageEquality hashtags—two of the buzziest topics on Twitter right now.
MasterCard has continued the narrative it began Friday with this weekend's Pride parades. Here's its Instagram post from today, using the hashtag #acceptancematters: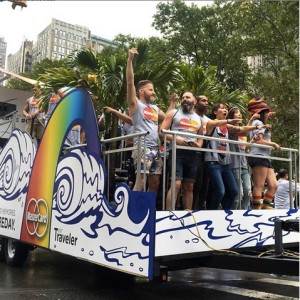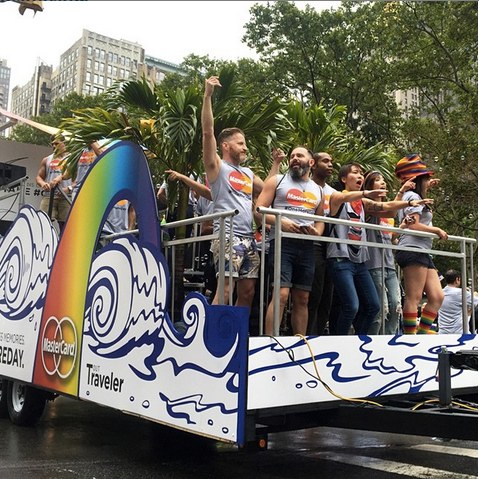 And here is its Instagram from yesterday, which gets a more graphic treatment:
Although brands were already making statements with their tweets and hashtags — which means they will now have to back their easy-to-join-the-crowd #LoveWins statements with the more difficult work of inclusive policies and actions — Mastercard also formally released a statement on Friday:
We applaud today's Supreme Court decision. Our diversity and inclusion agenda is foundational to who we are and what we do at MasterCard. It drives our collaboration, our talent development and our innovation. We have and will continue to support efforts that drive greater equality and opportunity.

We have long been a supporter of the LGBT community. Actions like the way we manage our benefits and employee programs to sponsorship of pride awareness campaigns reinforce how we encourage our employees and partners to bring a diverse set of thoughts, experiences and backgrounds to our daily activities.
The bottom line of equality
The White House took the bold step of bathing the actual White House building with rainbow colors to signal how it was glowing with pride. We may not often think of the White House as a brand, but it is. And that photo was quite the statement — a bold one, given how polarizing this decision is.
I remember talking to a gay shop owner the day in 2004 that the Bay State became the center of national attention; he had a very practical view of the matter and said that if nothing else, businesses were missing out on the opportunity to have gay couples joining the wedding industrial complex.
I wonder what he was thinking on Friday, when some of the biggest brands out there, including the White House, outed their organization's support for marriage equality.
More to come
This is hardly the end of the fight for equality in our country. But on Friday, after a long day (in the best possible way —my felllow Moonsail North principal and hosted an in-person a social media training and a personal branding webinar amidst all of this incredible news), we couldn't help but to end the day this way: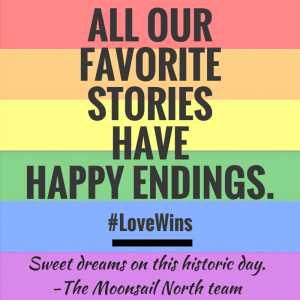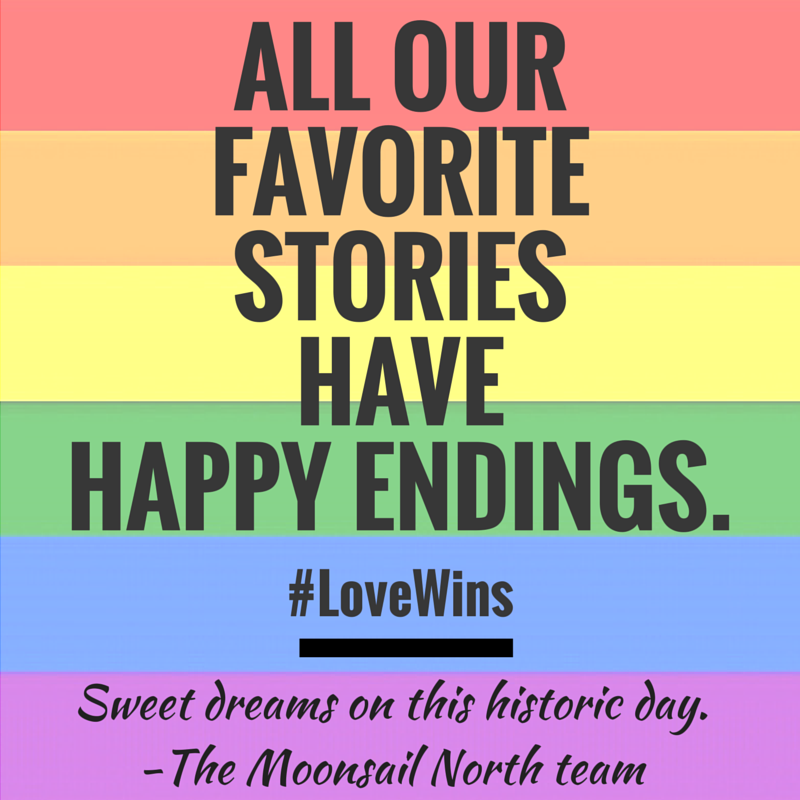 Want more? See how even more brands handled this:
June 28, 2015