No matter what your professional field, it can be difficult to talk about yourself. I know full-time communicators who are pros at making their organizations shine, but who dread writing up their own personal bio. It's completely understandable — you are too close to the subject you're trying to talk about, which makes it feel impossible to take a step back and assess.
Moonsail North absolutely loves guiding clients through the branding process, whether it's a new brand launch or a rebranding campaign. We also enjoy working with individuals on their personal branding. Whether on an individual level or an organizational one, the single hardest aspect of branding for folks trying to do it themselves often involves nailing the why.
Say hello to the eight-word mission statement.
In our new brochures, we include an insert that features a creativity- and relaxation-inspiring coloring activity on the front.
Can you tell that our team members love to color?
On the back, we have a fun and admittedly challenging exercise, but one that helps you tell your story with greater focus:
Can you distill your mission into eight words?
Can you distill your organization or project's mission statement?
It's not easy! Where to start?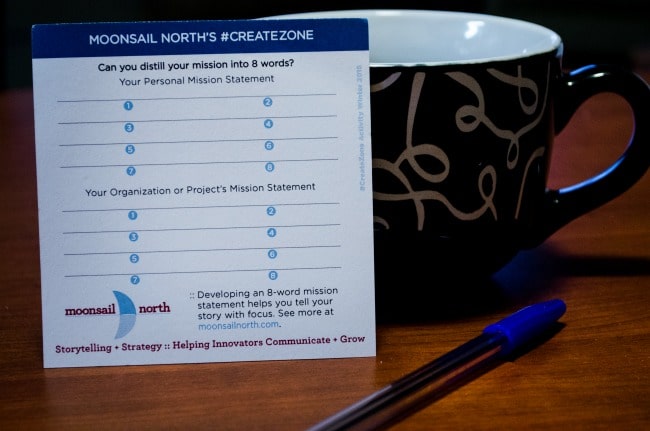 I gave a couple presentations last year about developing your personal brand. Curious? Check out one of the presentations, complete with exercises for you. You can also see this short Harvard Business Review piece.