New year, new social media strategy?
Influencers and brands across the globe are preparing for 2020, refining their best practices for social media. 
With increasingly sophisticated content being published to social media platforms around the clock, it's increasingly important to tune in to new trends that will increase your social media engagement to stand out. 
Here at #TeamMoonsail, we are dedicated to storytelling and strategy, helping others to communicate more effectively and grow. 
Social media is at the top of the list for most brands, so that's why we're always monitoring our strategies and staying up-to-date with the latest trends. 
We've done the research and rounded up our predictions for 2020 — take advantage of these trends to improve your social media efforts this year.
Focus on story content 
Social Media Today says Instagram stories have been skyrocketing in popularity since 2016, growing to 500 million daily users by 2019.
At Moonsail North, we are always searching for new ways to connect our clients to their followers. We've found that stories are a great way to stay engaged on social media.
This feature has been around for some time now, so what's the hype in 2020? Marketers are increasingly using stories to connect to users in an authentic way. Stories are a great way to humanize your brand: share quick behind-the-scenes updates, fun moments that show your company's culture, and demonstrate your engagement with followers and other brands. Stories are expected to be quick and raw, lowering the pressure to create highly edited, polished posts and giving your brand the space to be more personal and accessible.
We proudly use Sprout Social to manage our social media accounts and engage with followers. For business profiles, Sprout allows its users to schedule Instagram stories, making it easy to plan ahead. 
Another great tool, Canva has an option which allows users to create unique designs for stories and other posts. 
Get started: If you'd like to keep it simple, try using interactive stickers on Instagram stories to get your audience talking, including quizzes, polls and GIFs. 
Shopping on social media 
Nearly any savvy, creative type can open up an Etsy shop or sell items online, but what about selling products on social media? In 2020, it's going to become much easier for consumers to purchase items straight from social media. 
Brands are increasingly using social media platforms like Instagram to share high-quality product images, and with just one click a mobile user can purchase the item. 
Get started: If you want users to shop your links on Instagram, try programs like Linkin.bio by Later, Milkshake or Linktree, which allow accounts to display all of your links in one place. 
Videos become top priority 
It's no secret that videos perform well on social media. In fact, videos are 38% more engaging than an image or carousel post. 
If you want to up your social media game in 2020, think about adding more video content to your feed. 
A feature that's currently on the rise, IGTV has skyrocketed in use by influencers, who share one- to three-minute lifestyle videos that are easy to binge-watch. Live content is also dominating social media across platforms like YouTube, Facebook and Instagram. 
Get started: All of the tools you need to create short, entertaining videos are readily available on your smartphone. Try creating video clips using smartphone apps like InShot or YouCut. These apps are free to download (with some in-app purchases), making it easy to merge video files and add transitions, free music or text. 
It's all about engagement 
Building a loyal following and making lasting impressions play a huge role in becoming a trusted influencer or brand. 
Increasing transparency, brands should make it a priority to build authentic engagement with their followers, and stay away from using automation. 
If you genuinely interact with your followers, your credibility as a brand will increase with others, as well.  
Get started: If you want to boost your engagement, we recommend using social media management tools like Sprout Social, Hootsuite, or TweetDeck to make it easy to repost, like and comment.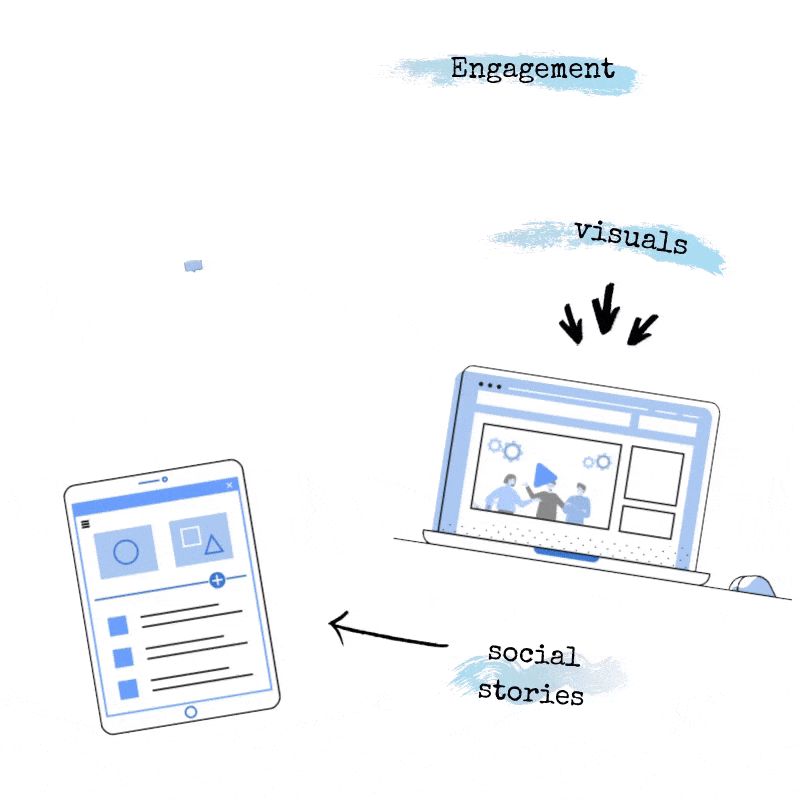 Engagement goes beyond liking and commenting; listen to your followers and interact with them. Try hosting a giveaway, launching a campaign or posting a new series. 
Do you have questions about social media trends? Want to share your social strategy and discuss how to become more engaged in 2020? Reach out to #TeamMoonsail!