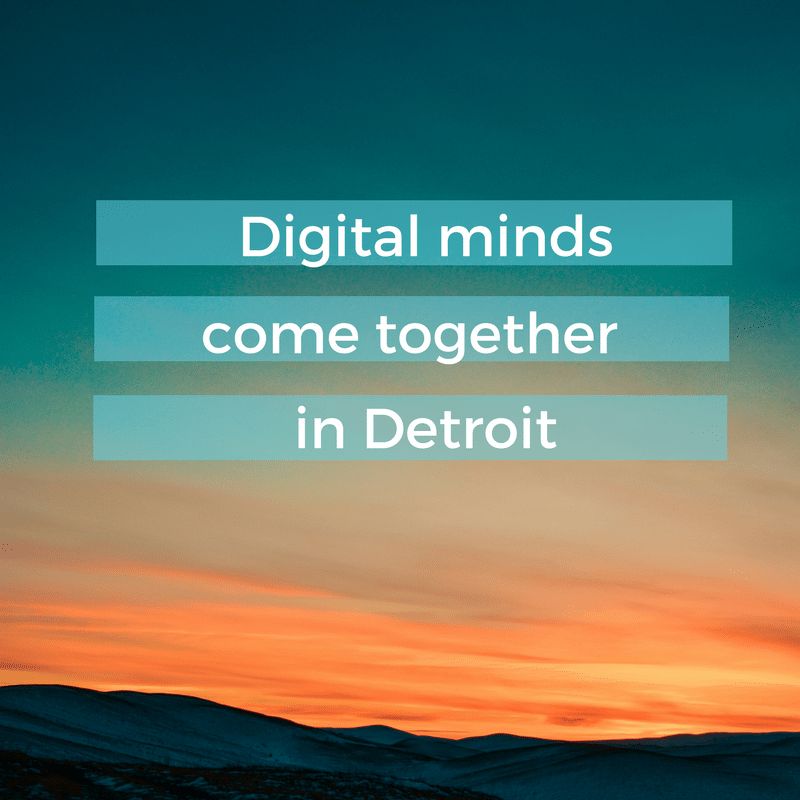 I attended Digital Summit Detroit last month for a few chock-full days of digital strategy, innovation, technology – and hashtags. When you have a bunch of tech-loving people under one roof, it usually means there's a hashtag involved.
While attending 16 different presentations, I live-tweeted some of the valuable information from each speaker. Together, they provide a small playbook for best practices in our fast-paced digital world.
80% of all internet consumption will be video by 2019 (Cisco study). #DSDET

— Katie Stiefel (@Katie_Stiefel) September 13, 2017
Each day, half a billion people are watching video on Facebook. By integrating more video into your strategy, your message will be better received.
Before creating your video, you need to know your goal, learn about your audience and create the right content for the right place at the right time.
By knowing your audience, the content you create will speak to them. If you've done your research, you'll take the guess work out of the content as well as the platform and time to post your videos.
I want to add that you have a broad view of what video includes. There are a range of video options built into channels like Instagram and Facebook, and there are tools to help your social posts stay dynamic. At Moonsail North, we take advantage of a wide range of video each week.
Going mobile isn't about a device. it's about how marketers and brands create a better user experience. @AnnieG #DSDET

— Katie Stiefel (@Katie_Stiefel) September 13, 2017
In the past two years, mobile surpassed desktop in the number of users. "Going mobile" is not about a six-inch screen, it's about how marketers and brands empower opportunities for our customers.
Google is now 60 percent mobile-first for search, and 85 percent of users expect your page to load as fast as desktop.
By creating mobile-first content, you're maximizing the power of the device.
At Moonsail North, whenever we talk with clients or potential clients about a website project, we always talk about what the website needs to accomplish – and about its mobile-first, responsive design.
Every moment is a content opportunity if you shift your mindset to look for it. #DSDET

— Katie Stiefel (@Katie_Stiefel) September 12, 2017
Marketing manager Quinn Tempest said that one of the best places to start content ideation research is your staff. If you don't have a team, that might be colleagues, partners or clients instead. Ask them one simple question: what questions do you get asked all the time?
Think about your clients' pain points, then address them in your content. By delivering the information to people when they need it, you instill that trust, and keep them coming back for more.
"Now is the best time in history to be a storyteller." @MorganSpurlock #DSDET

— Katie Stiefel (@Katie_Stiefel) September 13, 2017
Moonsail North focuses on storytelling and strategy, so our team can't help but agree with Morgan Spurlock, documentary filmmaker and a keynote speaker at Digital Summit Detroit. We know the importance of compelling stories, and we strive every day to help clients reach their goals through the science and art of storytelling.
Spurlock told the crowd of digital strategists to not be afraid to do things other people think are crazy. When you take chances no one else will, that is what puts you in front.
For more of Spurlock's inspirational speech and more tips from the conference, check out the rest of my tweets, retweeted by @MoonsailNorth.