By Bri Baker
Election Day is just around the corner. Just in time for campaign season, Facebook has released platform updates affecting political ads. After navigating this new landscape for our public policy clients, here are tips to make your experience easier.
Facebook recently rolled out "Paid for by" labels on political and issue ads, as well as a publicly searchable archive of all these ads running in the U.S. The labeling doesn't just apply to candidate and election ads, but any ad that falls under the political umbrella, including ads issued by nonprofits. These are all efforts aimed at increasing transparency.  
The current list of topic areas Facebook categorizes as "political" includes:
Abortion
Budget
Civil Rights
Crime
Economy
Education
Energy
Environment
Foreign Policy
Government Reform
Guns
Health
Immigration
Infrastructure
Military
Poverty
Social Security
Taxes
Terrorism
Values
How To Recognize The Political Ad Label
Political Ads will have a "Paid for by" label beneath the name of the page. When a user clicks the label, a disclaimer is provided, and they are redirected to a public archive that includes information noting the ad budget and the basic demographics and size of the audience targeted. This info can also be very helpful if you work in the political sphere — you can see what your opponents are doing!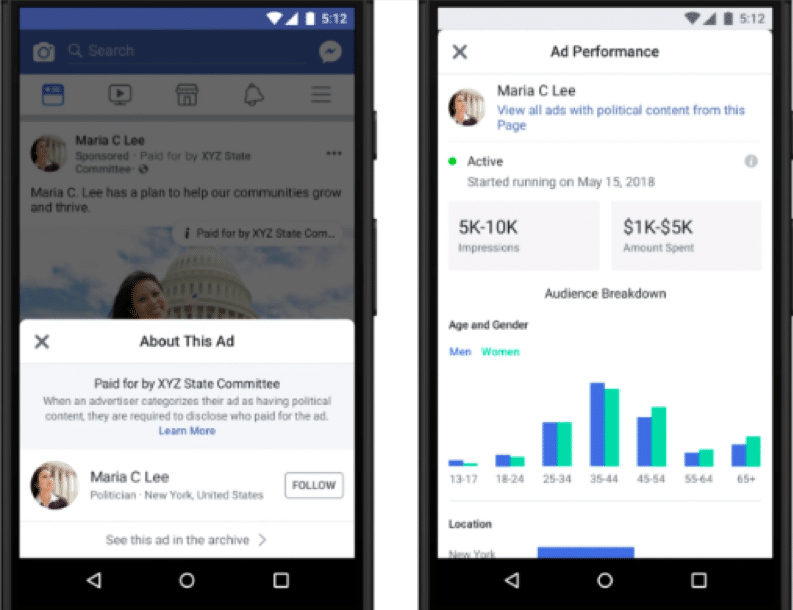 Where Facebook Is Falling Short
While Facebook's move toward greater ad transparency is commendable, it appears the company still has some kinks in the system that are being smoothed out. For example, Facebook's system automatically removed all Busch's Beans ads launched in May because they failed to include the "Paid for by" label. Busch's Beans is among a list of brands and businesses that have had their ads pulled from Facebook after being mistakenly labeled as political.
It's uncertain why the system is identifying these ads as political, but Facebook has mechanisms in place for people and advertisers to help improve the new system, such as the Facebook ad appeal process. Advertisers can fill out and submit the appeal form when they believe their ad has been mistakenly labeled as political or if an ad has been removed from the platform under false pretenses.
The Authorization Process
If you're a U.S. advertiser or an advertiser targeting the U.S. and plan to run ads related to politics or issues of national importance, you will need to go through Facebook's authorization process. The broad definition of some of the issues that fall under the political umbrella lead us to suggest that it is important to be proactive in gaining authorization to run political ads.
If you're wondering how to authorize your page, here are the steps below:
Navigate to your Facebook Page's Settings

Click on the Authorizations tab on the left

Provide your mailing address

To verify your address, you will be mailed a letter with a unique access code. Only the admins of the Facebook page can use the code provided. The letter may take up to 10 days to arrive.

Upload a scanned image of your driver's license or passport

Enter the last four digits of your social security number

Enter your confirmation code

Link your ad accounts
Info and Ads Section
There is a lot of noise on social media these days — it is critical that as citizens of a free state, we educate ourselves on how to cut through some of the noise. Knowing how to recognize political content on social media is just one of the ways we can stay informed during election season — but it also means more for brand managers to keep up with.
In late June, Facebook added an Info and Ads tab as an additional attempt to foster transparency. The tool allows users to see what advertisements a page runs across Facebook, Twitter and Messenger, even if they're not in the target audience. Users can interact with the features of the ads, but likes, comments and shares are not viewable. The "Info and Ads" tab shares additional information such as the date the page was created and any name changes the page has undergone since creation.
The additional page and ad info provided to users holds advertisers accountable, preventing misuse of Facebook.
In terms of the big picture, Facebook has been upping its transparency in advertising in response to the Cambridge Analytica scandal, and the tech giant has said this is only the start of a long term effort to increase accountability. Facebook brand managers should expect the list of political topics to evolve over time.
Have thoughts to share on the new political ad process on Facebook? We'd love to hear from you!
And be sure to #RockTheVote on November 6!