As we wind down 2019, we're toasting to another fast-paced year filled with story-inspiring collaborations, experiences and client impact.
2019 was momentous for our team—we celebrated a milestone five-year anniversary  with a new logo and collateral, HQ enhancements, and the addition of new talent to #TeamMoonsail. 
Thanks for being part of our journey. We look forward to creating strategic campaigns and compelling stories with you in 2020! 
Enjoy this look back at our Top 5 Moments of our fifth year:
5. New & returning clients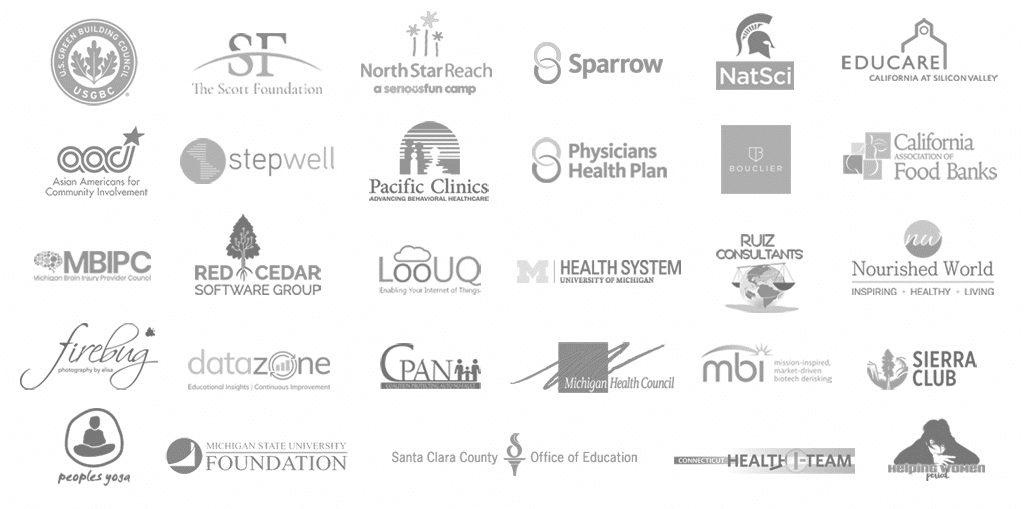 We're proud to work with individuals and organizations who are passionate about making our world a better place. We love watching organizations grow through their collaboration with us, and we always appreciate the opportunity to lift up the work of our change-maker clients with marcomm, digital storytelling, public relations, branding, graphic design, and capacity building services. 
This year, we welcomed Blooming Botanicals, Capital Region International Airport, Elizabeth K. Adbnour, Esq., PLLC, Entrepinayship, Honor Community Health, and Peoples Yoga Studio to our roster, and proudly continued our engagement with many ongoing clients around the country.
4. Award-winning collaborations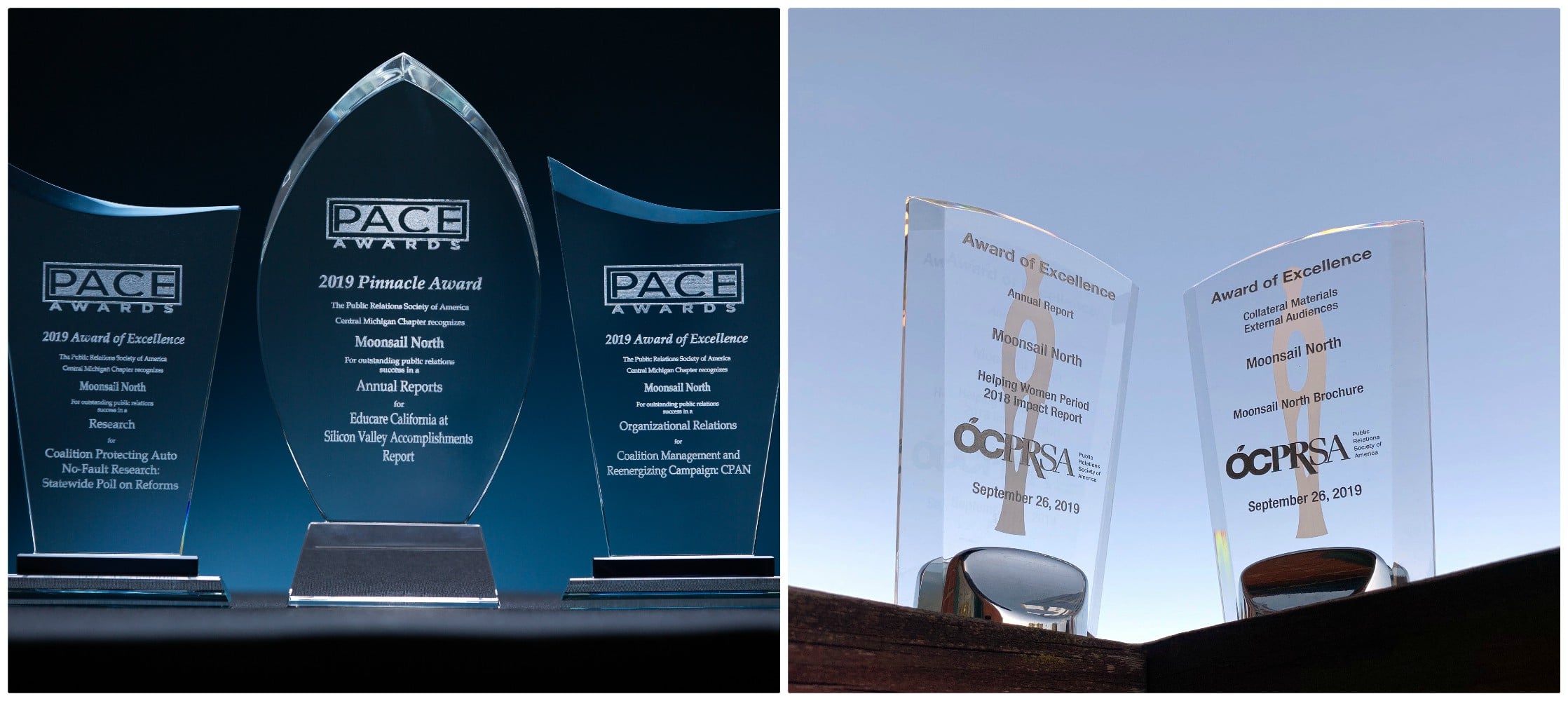 For Moonsail North, 2019 was marked by recognition from professional organizations across the country. We're proud that the stories we shared on behalf of #TeamMoonsail and our clients earned seven awards this year! We received two Bronze ADDYs from the Mid-Michigan Creative Alliance, two PACE Awards of Excellence and one Pinnacle Award from the Central Michigan chapter of the Public Relations Society of America (PRSA), and two PROTOS Awards of Excellence from the Orange County chapter of PRSA. Our award-winning collaborations span logos, brochures, annual reports, and research and issue management. 
3. Office enhancements
Before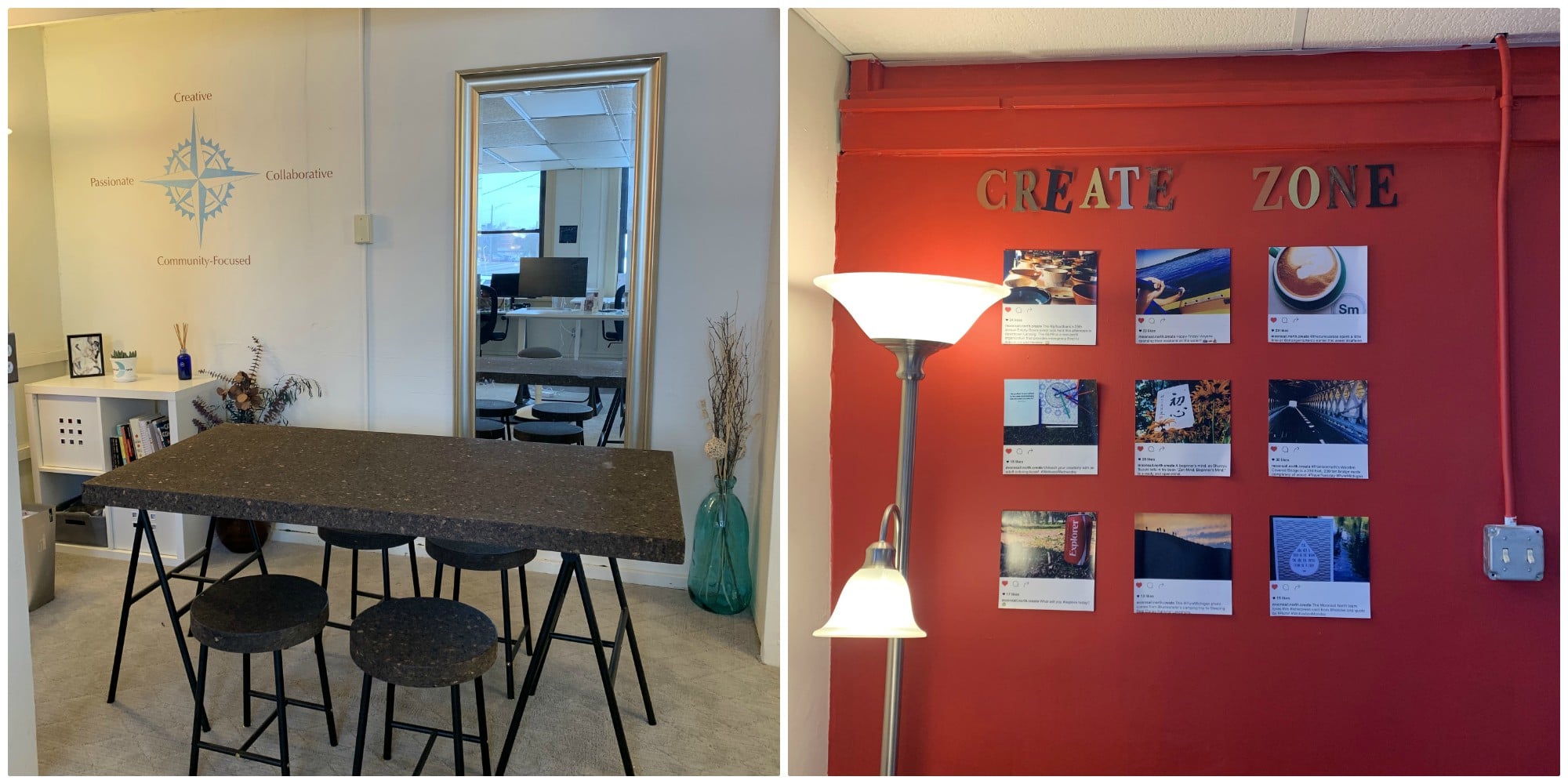 After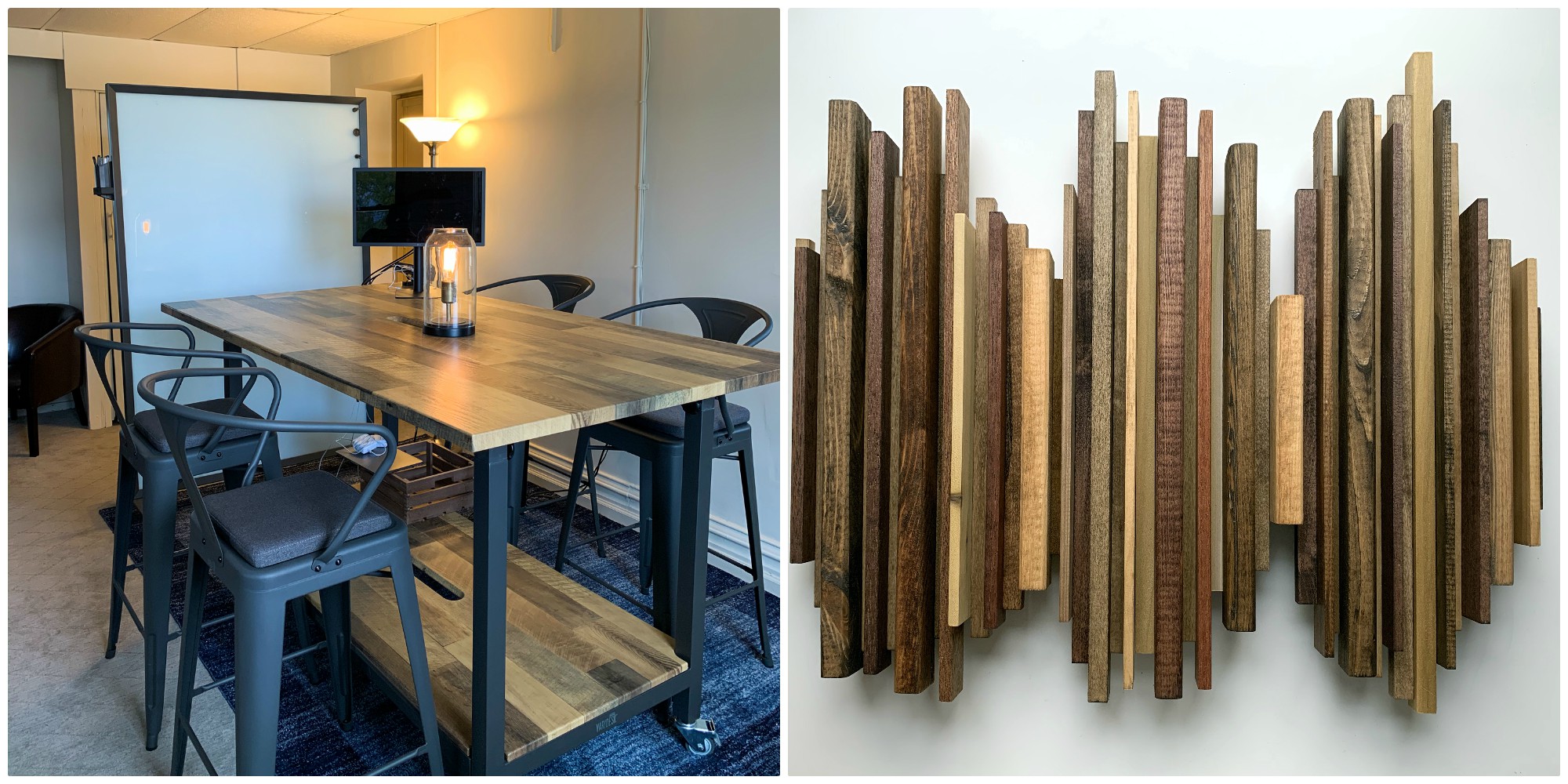 We gave our HQ a makeover to inspire creativity and collaboration and to reflect the maturation of our company. We painted our accent wall a deep Navy Fog blue to make visible our new brand colors and added a conference table to better accommodate meetings with our growing client roster. We also added a custom-made wood sculpture that visualizes the inspirational lyrics of "Sail to the Moon," our company name's origin. Stop by and see us next time you're on the #LoveLansing river trail!
2. #TeamMoonsail's growing team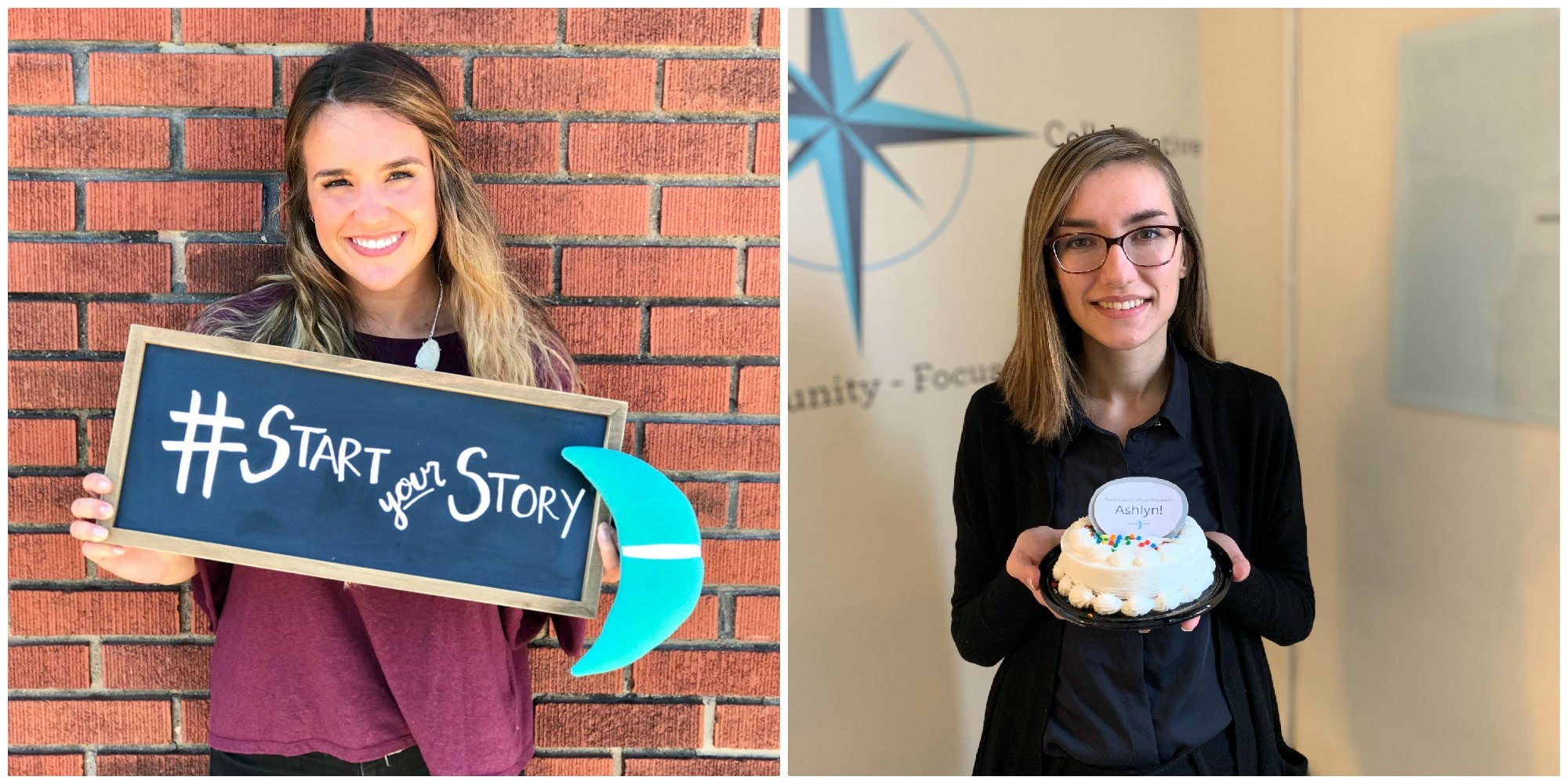 #TeamMoonsail was thrilled to expand our storytelling bench and skillsets by adding 
Elexi Dailey as our marketing specialist and Ashlyn Korienek as our communications specialist. 
Elexi's compelling graphic designs and stunning photos sharpen our visual storytelling, while her data analysis supports complex analytical projects. (We also love her tiny rescue pup and littlest brand ambassador, Milo!) 
Ashlyn adds extensive journalism, video and social media experience to our team, as well as our very first cat brand ambassador, Blue Moon! 
1. #TeamMoonsail's Brand Refresh

What better way to close our start-up chapter and start a new chapter in our company's story than with a brand refresh? As part of our fifth anniversary, #TeamMoonsail's logo sailed into deeper shades to reflect new adventures and more expansive waters. Our team has embraced the new brand colors—Aurora, Smoke, Firecracker Red, Marine Layer, Navy Fog, and Moonlight—and the modern, simple-yet-sophisticated new fonts of Montserrat and Archer Book.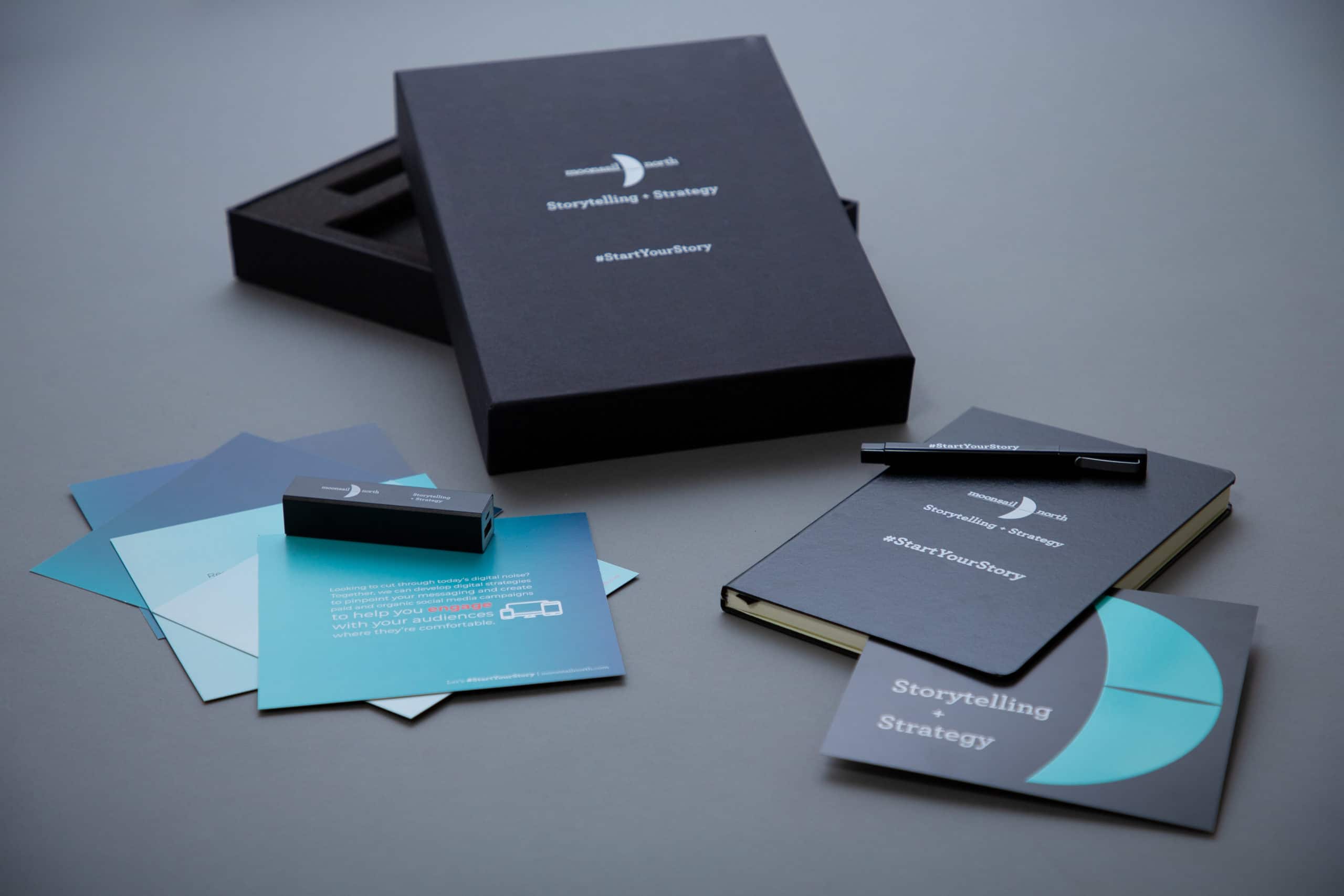 We carried our new branding suite into fun collateral pieces, including a seven-card brochure that encourages readers to build-your-own-story and a fifth year power-of-storytelling client/collaborator gift. 
In celebrating our fifth anniversary this year, our team has enjoyed reflecting on how far we've come and where we hope to sail in the future. Storytelling moves all of us, and we've been honored to share high-impact stories. In collaboratively crafting your story, you helped shape ours. Here's to a great new decade!