#StartYourStory is an ongoing series that explores storytelling lessons from popular media and how we can apply them to branding our organizations and businesses.
By Sedora Tantraphol and Lauren Tamboer
Sisters, All Hallow's Eve is quickly approaching, and for all the Hocus Pocus superfans out there, that means cozying up on the couch with a bowl of popcorn and a throw blanket to watch Hocus Pocus. 
Holiday traditions vary across families and cultures, but what links them is their storytelling roots, and how they're passed between generations. 
What makes us return, every spooky season, to this classic Halloween movie? It doesn't boast big-budget special effects or intricate sets. It's the quirky, relatable characters and the familiar narrative that gives you shared content to discuss with other superfans. 
Us when we find out someone has never seen Hocus Pocus: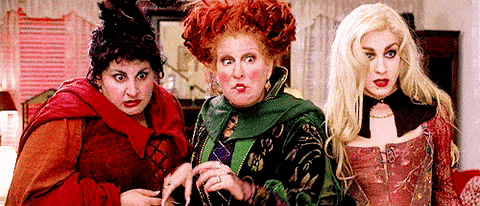 Storytelling connects us, and powerful stories withstand the test of time. This classic from 1993 might seem cheesy to today's first-time viewer, but we bet they'll love it all the same because it's got a glorious blend of humor, campy horror, and intricate costumes galore. 
Similarly, your organization or business can "recycle" stories that are oldies but goodies. While it's important to rotate your stories to keep them fresh for your audiences, it's equally important to identify your evergreen content "winners" that you can bring back from the archives to share again and again. When thinking about business narratives that are timeless, here are few that come to mind for #TeamMoonsail. 
Origin stories help to humanize your organization or business. As Simon Sinek famously advocated in his TED Talk, you need to start with why. Audiences connect with your brand story if they understand what problem you're solving or what motivated you to do what you do. Hocus Pocus grabs your attention by starting with an intriguing legend, and connecting that origin story to the present. 
We've talked a lot about getting back to the heart of your "why", and although it seems obvious, it can take a lot of reflection to tell your origin story well and in a way that supports your business aims. (And no, this isn't your mission statement. What's your personal connection to what that statement means? Go deeper.) 
Show how far you've come since the events of your origin story! What impact has your organization or business accomplished? With today's preference for hard data and measurement, organizations are often focused on quantifying that impact. Metrics are important, but make sure you're also sharing stories of positive outcomes for your clients or customers to connect with a range of audiences.
Hocus Pocus lets nothing be forgotten in the development of this story, and the Sanderson sisters will stop at nothing to find children to help them preserve their youth. Your organization has likely gone to similar (though more altruistic!) lengths to be able to continue meeting the needs of those you serve. Showcase your power and growth the way Winifred Sanderson so hilariously does: without hesitation!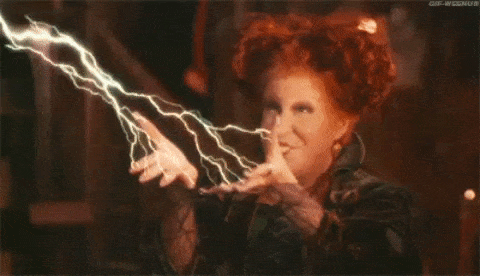 Of course Hocus Pocus isn't the most serious story, but there are useful insights into storytelling for our brands and organizations everywhere around us, if you know where to look. 
Want to bounce some ideas for your organization's storytelling as the holiday season approaches? Just want to chat about your favorite Hocus Pocus scenes? Connect with #TeamMoonsail!
Until next time, sisters!