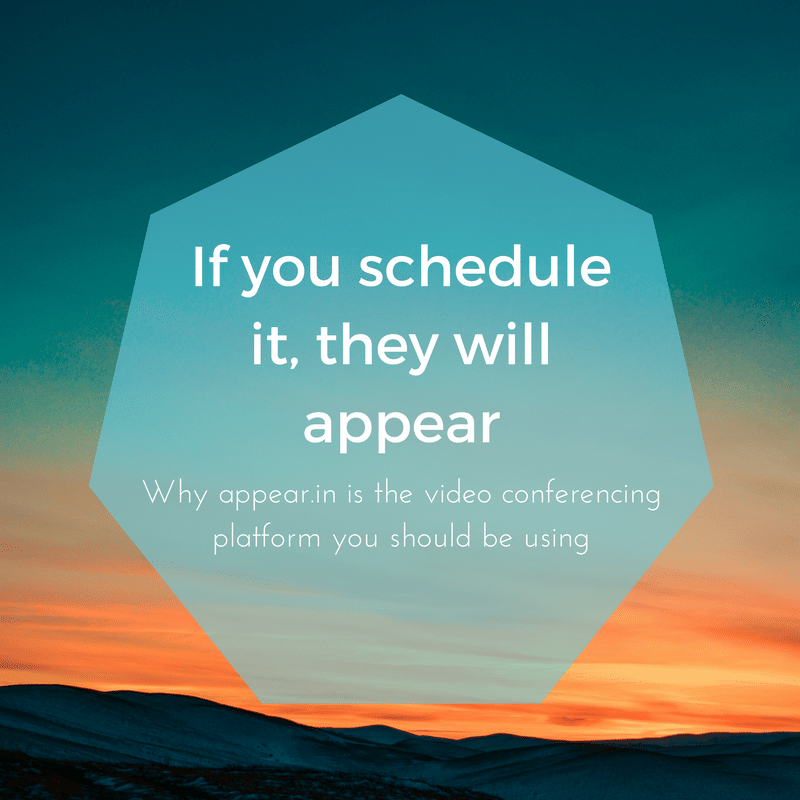 Our distributed team works because of the communications platforms that keep us (and our clients) feeling connected. For day-to-day communications and tasks, we love Slack. For team-building, we do weekly team meeting video calls using appear.in. It's also a cost-effective way to hold frequent meetings with clients.
We've tried a lot of video conferencing options — both for ourselves and with clients — and overall, we love appear.in the best. It's simple, free, and easy to use.
Appear.in features we love
One-click video conferencing:

send guests the room link to join in the browser (or app). No registering for an account, resetting passwords, downloading a program, or waiting and failing to join the conference!

Great quality:

crisp video and sound. It's much better quality and more consistent compared to the other platforms we've tried (including Uberconference, Skype, Google Hangouts, WebEx and others.)

Claim a room:

just like a standing conference call number, you can set up your own personalized standing video conference link. It's very helpful when scheduling standing meeting calendar invites and it looks more professional: appear.in/company. (You can claim multiple rooms, for example I claimed one for work and one for my personal use.)

Lock the room:

When the room is locked, new users joining the room must "knock" and be allowed in. This adds privacy and security while allowing different team members to have private meetings, or perhaps allow your team to jump on ahead of time to discuss the agenda before the call starts, without the hassle of creating multiple conference rooms or using a different medium. (You can also kick someone out of the room, which helps as a facilitator.)

Customize the background:

you can really make the room yours! You can upload your own photo to show in the background.

Screen sharing:

any user can share their screen, which is great for meetings or presentations where multiple people need to present. (The one drawback is that the screen isn't full size, so it can be hard to see small figures or text, but the flexibility of "popcorn" presenting outweighs this drawback for our team.)

Chat:

there's a chat function to share links, information, questions and answers, and to use as a parking lot or action item notepad.  

Stickers:

these make meetings more fun! The stickers are similar to what google hangouts offers. There are basic stickers like a pizza, happy faces, and a thumbs up, to more fun ones like pirate hat, beard, and top hat. There are even special animated stickers!  

Slack integration:

In the direct message channels, you can video conference with someone within Slack, using appear.in! It's great for a quick "it'd be faster to discuss this over the phone" type issue. So far, we've found that the quality isn't as great as using appear.in directly, and it doesn't support groups on the free version, but it is a handy feature.

Free

up to 8 people per room.

Use it

online

or in the

app

.
It's great for one-on-one check-ins, team meetings, client meetings, and even virtual holiday parties! We love appear.in so much, we planned a virtual ugly Christmas sweater party to celebrate the holidays last month! (And we geeked out when appear.in shared our post and dubbed virtual parties the #futureofwork.)
We used to use video conferencing rarely, but now that we've found such an easy to use and reliable platform, we jump on appear for almost all of our meetings — internally or with clients.
Pro tip: from a branding standpoint, we recommend that you make your background professional. Make sure to have appropriate lighting and a simple background to avoid distractions. Turn off screen notifications, and get to quiet place with good wi-fi. Be sure to test out the platform and remove any unnecessary items from view.  
Have a video conferencing platform you love? Share it with us!