#StartYourStory is an ongoing series that explores storytelling lessons from popular media and how we can apply them to branding our organizations and businesses.
By Bri Baker
#TeamMoonsail works with clients to tell their stories on a daily basis. Storytelling is a science — knowing how to make the brain light up. And it's an art — knowing how to move someone emotionally. We shamelessly fangirl + fanboy when our favorite brands capture their stories beautifully. In their own right, brands have become content creators and storytellers.
Take Warby Parker — one of Bri's favorites. Warby Parker is a trailblazer when it comes to good storytelling. Instead of taking the common approach, the company tells the story of how it was founded and what makes it unique, and shares its mission in making stylish eyewear that's both affordable and easily accessible.
Brand Mantra: There's nothing complicated about it. Good eyewear, good outcome.
When is the last time a glasses buying experience left you feeling happy and good-looking, with money left in your pocket?
Warby Parker's honorable self-proclaimed objective: "Warby Parker was founded with a rebellious spirit and a lofty objective: to offer designer eyewear at a revolutionary price, while leading the way for socially conscious businesses."
Company Culture
Warby Parker understands that if their workplace culture isn't strong — and if their employees aren't aligned and engaged — their brilliant brand narrative will fall apart. For this simple reason, the company lives by four ground rules:
Treat customers the way they'd like to be treated.

Create a environment where their employees can think big, have fun, and do good.

Get out there by serving the community.

Green is good — Warby Parker is proud to be one of the only carbon-neutral eyewear brands in the world.
By sticking to this set of rules, Warby Parker is able to provide top-notch customer service. One customer describes her interaction with the company as, "a surprisingly delightful brand experience." At Moonsail North, we hold our company culture and team comradery to a high standard — we believe we are better storytellers for it.
The Fun Side
Are you looking to spice up your glasses game? If so, you're in luck! Warby Parker teamed up with artist Craig Redman to craft a Colonel monocle — a perfect circle lens with just the right amount of grip and give. Warby Parker says it is the perfect accessory for robber barons, tyrants and supervillains.
Many Warby Parker customers choose to join in on the larger conversation taking place on social platforms by sharing a photo of themselves in their new glasses, and hashtagging the name of the frames they are wearing. Check out Elire rocking the Colonel Monocle!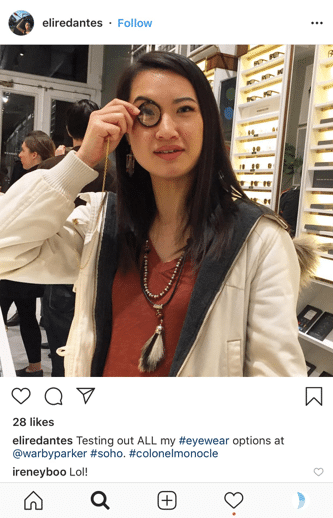 Green is Good.
What are Warby Parker's glasses made of? Plant-based cellulose acetate.
After construction, each pair of glasses is polished by hand. New data from The Shelton Group has found that Americans — specifically millennials, who control the future of the consumer market — don't want to be caught shopping from a company that harms the planet. Millenials are willing to dig deep into their pockets (in some cases quite deep) to know that what they're spending their money on is both good for the earth and the people on it. It is for this reason eco-friendly brands like Warby Parker put thought into what goes into their products. Brands looking to win millennial loyalty: it's time to hop on the sustainability train, if you're not already on board.
For Warby Parker, being part of a bigger story than fashionable eyewear goes beyond the materials in the products. It's not unlike the way #TeamMoonsail makes sure any new client project aligns with our values — we want to help innovators reach their desired landmark, to make the world a better place in their own way. For Warby Parker, it drives their team to contribute in a more meaningful way than by simply selling a product, which leads to another facet of the company's socially-conscious approach.  
Social Impact: The story begins with you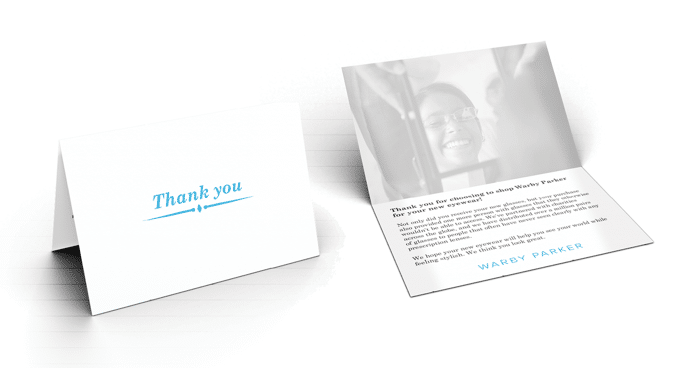 "Thank you for choosing to shop Warby Parker for your new eyewear! Not only did you receive your new glasses, but your purchase also provided one more person with glasses that they otherwise wouldn't be able to access. We've partnered with charities across the globe, and we have distributed over a million pairs of glasses to people that often have never seen clearly with any prescription lenses. We hope your new eyewear will help you see the world while feeling stylish. We think you look great."
Warby Parker considered itself a do-good retailer from day one: They believe everyone has the right to see. The company's "buy a pair, give a pair" initiative fills a crucial gap for the 2.5 billion people around the world who need glasses but don't have access to them. For every pair of Warby Parker glasses sold, they donate a pair to someone in need.
Now that's a story that evokes a feeling in our hearts — and wins our support.
Do you have a story to tell about your favorite brand doing socially conscious work? We'd love to hear from you! Narratives matter, and it's why we are so passionate to help you #StartYourStory.